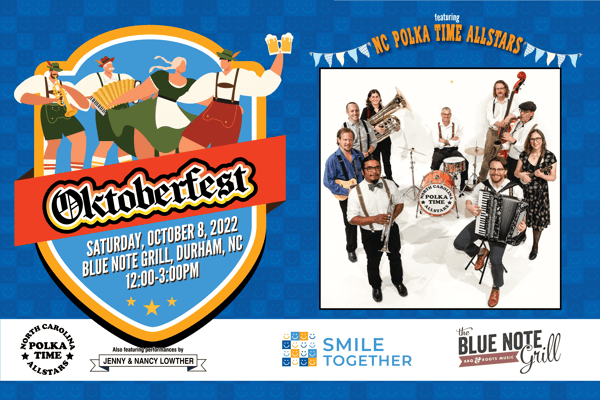 OKTOBERFEST PARTY & Benefit for Smile Together!
Let's roll out the barrel, it's POLKA TIME!

Break out your best lederhosen and come grab a stein of your favorite beer! This family-friendly event will feature food, fun, and the best Polka band around.

Be sure to stop by the judges' table to enter the best-dressed competition. Face painting and a bounce house for the kids too! 

The North Carolina Polka Time Allstars feature the finest polka music played by the finest polka people! Based in Durham, NC, the group is directed by William Dawson (proud lifetime member of The International Polka Association), who grew up with a passion for polka in the polka-loving town of Pittsburgh, Pennsylvania.

Funds raised at this event will benefit the charity Smile Together and their work for kids with cleft and craniofacial conditions. We need your help to make their annual fundraiser a huge success!

Dance, play, and smile the day away!!

NOTE: We do not take reservations, all seating is first come first served. We recommend arriving 1 hour before showtime with your party to avoid a wait. Due to staffing issues waits and food times may be longer than usual.

Thank you for your patience.

BUY TICKETS