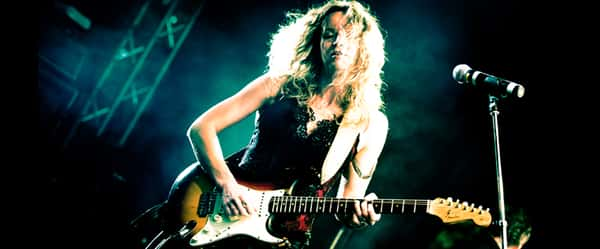 ANA POPOVIC
$25 Standing - SEATING IS SOLD OUT!

Celebrating 20 years as a touring musician, the award-winning guitar player, singer and songwriter releases 'Live for LIVE', an exciting hour and a half CD & DVD demonstrating why she's proudly looking back at a career of thousands of shows worldwide. This high-energy concert showcases not only Ana's mesmerizing guitar skills but also her fabulous band, successfully merging musical styles. Ana's passion on stage is so evident that the title sums it up, this IS what she lives for.

Today, you'll find Popovic in a select group of excellent modern blues guitar players. One reason could be the fact that she's always willing to work a little harder and travel a little further to hone her craft. That dedication has resulted in twelve albums, two DVDs and six nationwide Experience Hendrix tours. She's called "one helluva a guitar-player" by Bruce Springsteen and nominated for seven Blues Music Awards nominations. Ana has appeared on the covers of Vintage Guitar and Guitar Player magazine. Her albums 'Can You Stand The Heat' and 'Unconditional' were USA Today Picks-Of-The-Week and featured on NPR Weekend Edition, who praised her "Fiery technique on the Stratocaster". Nearly all of Ana's albums reached the top of the Billboard Blues Charts. She and her six-piece band have toured tirelessly, sharing stages with B.B. King, Buddy Guy, Jeff Beck, Joe Bonamassa and many others.

web: anapopovic.com

NOTE: We recommend arriving 1 hour before show time with your party to avoid a wait. Due to staffing issues waits and food times may be longer than usual. Thank you for your patience.
BUY TICKET